Bio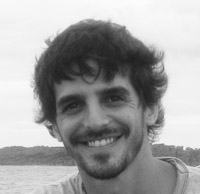 I'm an Assistant Professor in Peace & Conflict Studies and Geography at Colgate University in Hamilton, NY. Before completing my PhD in Geography at the University of California, Berkeley, my professional background was in journalism, covering Latin American affairs and U.S. policy toward the region. Although I'm focused full-time on my academic work, I continue doing journalism on the side as a way of sharing my research with broader audiences.
My research is about the political ecology of violent conflict and development in Latin America with a special interest in the role of natural resources and illicit political-economic networks. My current book project, tentatively titled In the Absence of the State, examines how outlaw combatant groups funded by the drug trade engage in unexpected forms of state-building in a violent frontier zone of northwest Colombia. I have also begun research on a new project in Colombia about the ways the environment is being used as both a weapon of war and a tool for peace.casino 400% first deposit bonus
Although I lived in Colombia for a total of seven years, I am originally from Buenos Aires, Argentina and I've lived in Mexico and Venezuela, but I mainly grew up in United States, where I completed high school and my university studies. After college, I spent five years as an editor of the most widely read English-language publication on Latin America: the NACLA Report on the Americas, published by the North American Congress on Latin America (NACLA)?in New York City. My journalistic work has been published in newspapers across the United States, including the New York Times, and in magazines such as The Nation, The Progressive, and?Z Magazine among?others.
I was also the co-editor (with Vijay Prashad) of the book Dispatches from Latin America: On the Frontlines Against Neoliberalism, a collection of essays on the region's leftward political turn. The book was simultaneously published in the United States by South End Press and in India by Leftword in 2006.
My academic research has appeared in peer-reviewed journals such as Antipode, Geoforum, and?Environment and Planning D: Society & Space as well as presented at various conferences and workshops in Europe, Latin America, and the United States.
I can be reached by email.
Download (PDF): Academic CV.
?